"A red rising moon slowly creeps over starboard side, its reflection is like a bloody arm stretched towards the boat."
Day Four – 5th December, Monday, Off the coast of Portugal
8.30am
At last I can go to sleep. It has been a tough night watch. With plenty of fishing boats without AIS, we had to keep our eyes constantly glued to the sea.
The captain has been a bit rough last night, shouting and pushing me around. He has asked me to do things I haven't been taught yet and well after my shift. It is probably a good thing, as I need to learn quickly, but I also think he is trying to test my nerves.
Little reminder for myself: put your ego aside, you are here to learn.
Good night for now.
7.00pm
I didn't managed to get much sleep in the end. I guess I was still a little nervous. Having the engine right behind my cabin surely didn't help either. The weather is beautiful but there's very little wind so the engines are constantly on.
I was told off another couple of times by the captain. I'd better wake up.
My mood wasn't exactly the best today but I managed to study a bit of sailing and could check my progress with Ben (the first mate) later on in the day.
Something really made my day though: dolphins, dolphins, dolphins!! We saw them at least 3 or 4 times during the day, schools of 10/15 of them.
They are extremely curious and playful. One of them kept glancing at me then turned upside down and swam belly up while staring at me. It was so cute. It reminded me so much of Bella (my dog), I almost cried. I miss her so much!!
I grabbed a couple of good shots and some nice footage of the dolphins. All in all I'm quite happy.
Another beautiful sunset over the calmest see I've ever seen. Mer d'huil the French call it and quite understandably.
Time for a little nap before starting my Quart.
Oh, one more thing, today I heard the original version of De André's Il Gorilla, the one written by Georges Brassens titled Le Gorille. I had to come to the Atlantic to do that. Life I guess.
11.35 A red rising moon slowly creeps over starboard side, its reflection is like a bloody arm stretched towards the boat. I'm reading a book on happiness.

Day Five – 6th December, Tuesday, Off the coast of Portugal
00.20am
I think I just spotted Virgo. I must download a constellation chart.
"I libri pesano tanto: eppure, chi se ne ciba e se li mette in corpo, vive tra le nuvole"
00.30am
Being on the boat is giving me a chance to read a lot more. I missed reading. I don't understand why I couldn't find time for one of the most enjoyable things in life.
Also I finally have the time to process some of the experiences I have been through in the last year. I will take the opportunity to write about them and a few other things that have visited my mind every now and then. This feels good.
The French call Quart the watch shift. The day is divided in six Quart, each lasting 4 hours. We do the Quart in couples, so sometimes one of us takes a little nap on the seats next to the one that is actually keeping an eye on the AIS (The Automatic Identification System, which is an automatic tracking system used for collision avoidance on ships).
Time to wake up the captain.
8.25am
I see a stripe of yellow fire rising from the sea. A flock of dark birds brave it graciously.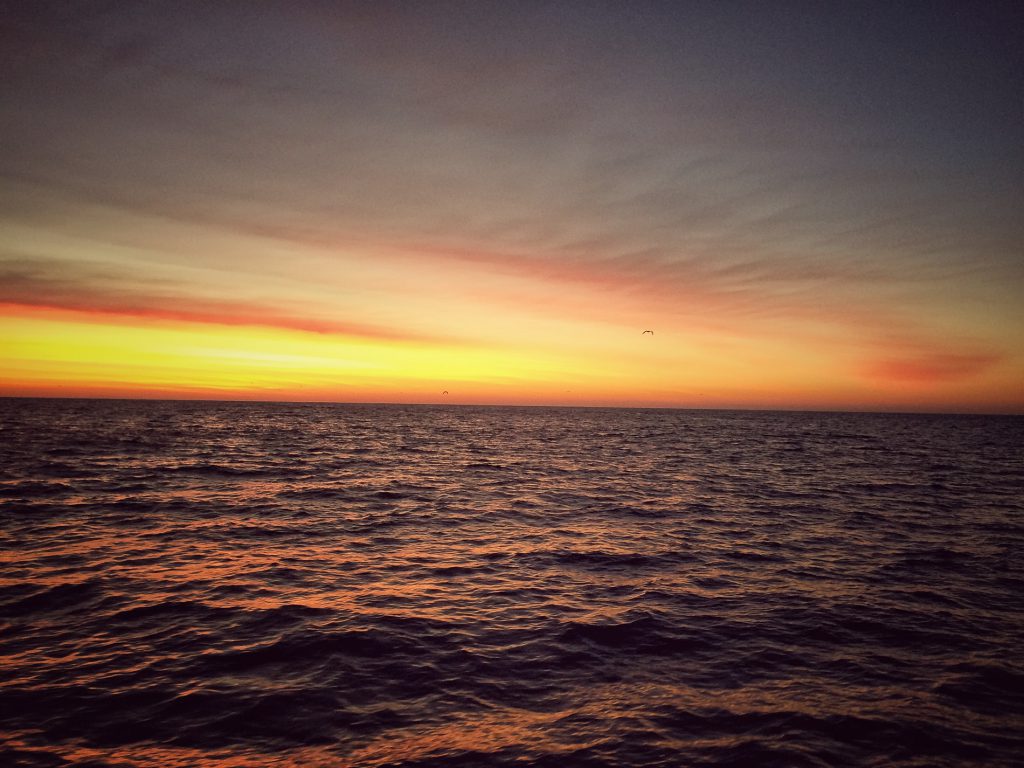 11.55am
Once again I couldn't get much sleep, not even with the engines off. I keep been anxious about having to prove myself. I am starting to wonder whether I am developing some sort of paranoia. I need to monitor the symptoms and act if necessary. I think the language barrier is increasing my sense of isolation. Paradoxically I would feel less isolated if I were on my own.
I need to relax and try to enjoy the experience rather than keep worrying about what the captain thinks.
Breathe, it's sunny out there.
3.00pm
I spent the last hour drying up the bilges under my cabin and the engine compartment (the latter really wasn't fun, as I tried to reach behind the running motor with my face no more than 2cm away from it). Water sips in from somewhere, but we can't find the cause. It's cold and salty, so it definitely does not come from my bathroom. The other cabin on the same side has the same problem.
It is not a good sign but no one seems to be too worried for the moment.
Well, I guess I will do some more reading now then probably get a quick rest before the night watch.
No dolphins today. And we are too far from land to get any phone signal and the promise of some friendly voices.
The sun is still shining though.
Life isn't too bad after all.
4.00pm
Ben lent me a very interesting book called Guide des Antilles and I've been reading it for the past hour.
The navigation is quiet, the captain is reading, Ben and Estelle are sleeping.
Suddenly I look outside and I am presented with the majestic view of the Berlengas archipelago. Still wrapped in the distant mist they emerge from the water sharp and steep. I shall get my camera as soon as we get closer.
4.35pm
Brief mobile signal from the coast. Frantic checking of emails and social on the boat.
11.45pm
Engines off. We are sailing!
1.05am
I saw dolphins glowing in the dark!
Just when I am about to go to sleep at the end of my watch I hear them. Ben and I rush out and there they are. A school of dolphins swimming next to the boat. Their body is covered in plancton which emits a noticeable fluorescence. The dolphins leave a luminous track while they swim past in the dark. Absolutely magical!
Day Six – 7th December, wednesday, Off the coast of Portugal
2.30pm
With a short 4-hour sleep/wake cycle it becomes easy to loose the perception of linear time. The days are dense and if I don't write immediately what happens it becomes often difficult to place events in the right chronological order. It is not surprising that many captains used to keep a personal journal on top of the usual log book.
Resting is proving difficult. It is astounding the amount of noise this boat can produce. Even the smallest wave seems to hit the flat surface of the catamaran with incredible determination, resulting in strong bangs that reverberate throughout the whole structure. Even if the engines are off (they can be pretty loud when they are sitting right behind your cabin), the propellers still spin idle generating a fairly loud humming noise.
I still struggle with the feeling of having to prove myself. I realise I wake up anxious thinking I might have missed the alarm or that things are happening on the boat and I should be helping out.
When I came out of my cabin at 12pm today, the Captain did remark that I am like a bear and I sleep a lot. But unlike other times, I didn't read any sign of criticism in his tone. More like registering the fact, with a smile.
Truth is, I don't actually sleep that much. The reason I am often tired is precisely because I can't fall asleep in the first place.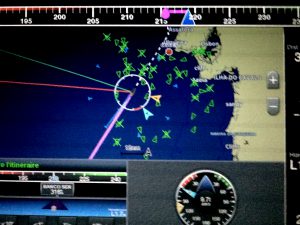 In fairness, he had a pretty tough night and he only slept one hour. The guys had to wake him up during their watch because the GPS looked like a minefield. While leaving the coast of Lisbon and crossing into open sea, we had to go through the cargo ships channel and, dear me, that looked busy.
The mild paranoia I registered yesterday has subsided a little. Maybe because of the hard work I have been putting in in the last couple of days. The captain asked me to clean the cabin windows after my night watch and, as I was at it, I also cleaned all the black marks made by my Vibram soles on the deck (needless to say I immediately switched to my very cheap and cheerful £10 sailing shoes).
I have the impression the captain is looking at me with a kinder eye.
Or maybe it is just because I managed to calm down a little and approach everything with a more philosophical attitude which has allowed me to perceive things in a more positive light.
Either way today I feel a lot better and I have no doubts that deciding not to ignore the early paranoia symptoms and thus challenging my own perception was the right thing to do.
It is quite easy to underestimate some key factors but the combination of being sleep deprived, in an alien environment and not being able to understand what people say around me, has affected me deeply.
The apparent wind as gone up to 20 knots.
We do expect over 25kt of true wind and over 5m waves. That should be fun.
I noticed, while I was sitting on the sofa and Estelle e Ben were busy near the kitchen surface, that the captain observes (and judges) absolutely everything.
I know for example he keeps an eye on how much water I'm drinking. He checks even the way we fold cloths in the kitchen. I also saw him rearranging cutlery and food in the drawers by moving things one inch one way or the other. While it is reassuring knowing that he keeps everything under control, it does put a bit of pressure knowing that you are constantly under scrutiny.
6.00pm
End of the Quart. Before retiring to his cabin, the captain left me with these words: "Go to sleep, we have a difficult night ahead."
Game on.